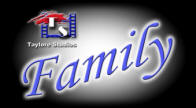 ©
Welcome to Taylore Studios Family.
"One of the most important things in life is family."
Taylore Studios Family handles all your home entertainment needs.
Montages, Mitzvahs, Weddings, Birthdays and other family needs.
A Taylore Studios Videographer who truly cares about creating a perfect re-telling of your wedding day or event. I know that you and your family have worked very hard to get to this day and I want to capture the emotions, sights and sounds as they happened with the intent of creating a wedding movie that can relate your love for one another to the viewers. Only Taylore Studios Video can do this.
Our approach is a cinematic styling which creates a video that you will never feel you have to fast forward to get to the good parts. No other Tucson area videographer gives the time and effort it takes to properly edit a video.
Finding the right videographer here in Tucson or any other vendor for your wedding is very important. Most important are those that are capturing your memories; the photographer and the videographer. After your wedding day passes, you are left with only a few things. You have the top of your cake, your photos and your video.
Make sure you choose the right person to create a lasting memory that you and your future generations will absolutely treasure.
We create "Classic Style Photo Montages" that withstand the test of time
"We begin every production the same way. We listen. We ask questions.
We work with you to create the right message for the right audience to get the correct results."
Contact us to to get started on getting results for your visual needs.
©2018 Taylore Studios www.TayloreStudios.com